Description
TEXA Navigator TXTs Diagnostic Device for Supper Sport Cars Ferrari, Lamborghini, Dodge, etc. Direct From the Factory
PROFESSIONAL DIAGNOSTICS FOR SPORTS CARS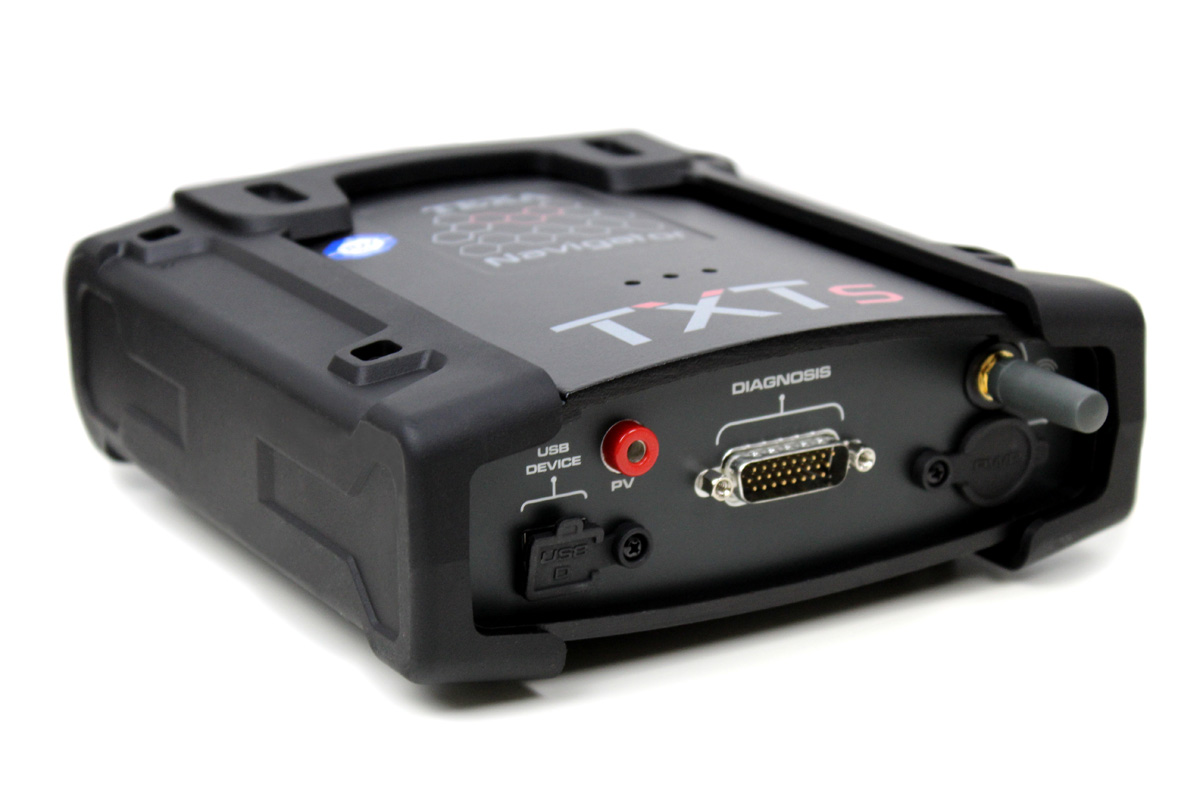 PROFESSIONAL DIAGNOSTICS TEXA NAVIGATOR TXTs for PC with integration "SUPERCAR"
Programmed maintenance, inspections, and periodic revisions require specific electronic equipment to reset the service indicators, check the condition of the equipment, or activate certain systems.TEXA NAVIGATOR TXTs is the latest TEXA interface for multi-brand diagnostics. A powerful diagnostic tool for direct connection to the vehicle's OBD socket that communicates with a Windows PC via Bluetooth.
PRODUCT DESCRIPTION
TEXA NAVIGATOR TXTs is the largest and most versatile version of the NAVIGATOR self-diagnosis range for all types of vehicles (cars, motorcycles, light and heavy commercial vehicles, AGRI and marine). Wireless operation allows the user to perform all diagnostic tests with a great deal of freedom of movement in the workshop and around the vehicle.
TEXA NAVIGATOR TXTs allows to perform self-diagnostic tests such as: error reading and deletion, display of measured values and activation states, adjustment and configuration, reset of pilot light when changing oil, maintenance and airbag, ECU configuration, keys and remote controls. Additional brand coverage of "SUPERCAR" integration: Alfa Romeo, Aston Martin, Bentley, Chevrolet, Dodge, Ferrari, Lamborghini, McLaren, Porsche, Rolls Royce, Maserati, Morgan and Pagani.
SUMMARY
Professional diagnostic device
Multi-brand software
including sports car integration
Read and delete errors
Configure and adjust
Learn key
… and much more!
INCLUDED:
-Navigator TXTs car with EOBD cable,
-USB cable,
-Bluetooth antenna,
-Multi-brand software IDC5 Plus car for PC
-Software integration "SUPERCAR"
-USB hardware dongel for activation,
-Tether
-Manual,
-USB Bluetooth antenna for PC
TECHNICAL SPECIFICATIONS
PROCESSOR: CORTEX M3 STM32F103ZG 72 MHz, FLASH 1024 Kbytes, SRAM 96 Kbytes
MEMORY: External SRAM memory: 8 MBit, divided into 512 kbyte x 16 bit, NAND flash memory, external: 132 MBit on 8-bit bus
VEHICLE BATTERY: 12 VDC and 24 VDC system management
EXTERNAL POWER SUPPLY: 8 ÷ 32V
USB COMMUNICATION: Virtual RS232 interface for USB 2.0 device
WIRELESS CONNECTION: Bluetooth Class 1 (30 m)
ELECTRONIC SWITCH: 2-way, 13 independent positions
CONNECTOR TO THE CONTROL UNIT: PV as required by the SAE J2534 protocol
DIMENSIONS: 160x170x55 mm
WEIGHT: 1 kg
ASSISTED PROTOCOLS: Blink Codes, K, L, (with current protection 100 mA), ISO9141-2, ISO14230, CAN ISO11898, ISO11519-2, SAE J1850 PWM, SAE J1850 VPW, SAE J2534-1
This tool will allow you to connect to engines, cab controllers, hydraulic systems, GPS, and a variety of others. You can run a variety of commands including stationary regens, cylinder cut-out tests, joystick calibrations, injector programming, and thousands of other controls. Coverages are listed below:
CF-31 Laptop (240 GB SSD, 8 GB RAM, Wifi/Bluetooth, Windows 10 Pro, 12-month warranty)
TEXA IDC5 Off-Highway License (See coverage below)
Powerpack cable kit includes auxiliary cables for powering ECMs on vehicles
CAT Off-Highway Cable
Standard 6, 9, & OBDII Cable (Please contact us for pricing & information on other cables)
DTC Solutions Off-highway Edition repair solutions software.
Diesel Laptops Power Bank – Makes it easier to connect to off-highway equipment
Free Training – (1) Free voucher for our in-classroom training and (1) Free voucher for our web-based training.
Coverage
Engines
Caterpillar
Cummins
Detroit Diesel
Deutz
FPT (Iveco Motors)
Isuzu
John Deere
Kohler
Kubota
Mercedes-Benz
MTU
MWM
Perkins
Scania
Sisu
VM Motori
Volvo Penta
Yanmar
Agriculture Vehicles
Agricultural Trailer
Belarus
Buhler Versatile
Carraro
Case IH
Caterpillar
Challenger
Claas
Deutz-Farh
Dieci
Energreen
Faresin
Fendt
Franz Kleine
Grimme
Holder
Horsh
Hurlimann
JCB
JLG
John Deere
Kamaz
Krone
Kubota
Lamborghini
Landini
Laverda
Lindner
Mac Don
Manitou
Massey Ferguson
McCormick
Merlo
New Holland
Renault Agriculture
Ropa
Same
Steyr
Ursus
Valtra
Yanmar
Valtra
Volentiere Pellenc
Construction & Special Vehicles
AEBI
Astra
Atlas
Atlas Copco
Bell
Bobcat
Bomag
Carraro
Case
Caterpillar
CVS Ferrari
Doosan
Fantuzzi
Fiat-Kobelco
Genie
Grove
Hamm
Hidromek
Hitachi (Fiat-Hitachi)
Hydrema
Hyundai Construction Equipment
Iturri
JCB
JLG
John Deere Construction Equipment
Kassbohrer Gelandefahrzeug
Kalmar
Kawasaki
Kobelco
Komatsu
Kramer
Kubota
Liebherr
Link Belt
Mecalac
Merlo
Mow
New Holland
O&K
OshKosh
Perlini
Pettibone
Randon
Rosenbauer
Sandvik
Sunward
Tadano
Takeuchi
Terex
Terex Trucks
Terex Demag
TigerCat
Volvo Construction Equipment
Wacker Neuson
Weidemann
Wirgen
XCMG
Yanmar
Xtreme
Forklifts & Telehandlers
Bobcat
Caterpillar
Claas
Cometto
Dieci
Doosan
Faresin
Genie
Heli
Hyster
Hyundai
JCB
JLG
Kalmar
Kone Cranes
Kramer
Kubota
Linde
Manitou
Massey Ferguson
Merlo
New Holland
Oto
Pettibone
Wacker Neuson
Xtreme
Yale
OFF-LINE CODING IS ALSO POSSIBLE (online is, per time fee)
All cables are the latest versions with full support.
We are an established company.
Free technical support available by appointment.
All software will be pre-installed for you.
The system is built to order and delivered READY TO USE.
All cables supplied will be brand new.We supply all manner of diagnostics setups for cars and trucks.
---
Please note this is ready to go work just plug and play.
FOR ANYMORE INFO PLEASE CONTACT ME
🛒*if you need any special scanner tools or software let me know*  🙂
Contact information:
*WHATSAPP:  +49 1578 9815217
*Skype: MAKOBD2.
*Instagram: Makobdii_store
*Twitter: @MAKOBDII
Email: Sales@makobdii.com | info@makobdii.com

Contact us:
Our office hours:
Am8: 30-PM11: 00