Description
TEXA Navigator TXTs Diagnostic Device for Supper Sport Cars Ferrari, Lamborghini, Dodge, etc. Direct From the Factory
PROFESSIONAL DIAGNOSTICS FOR SPORTS CARS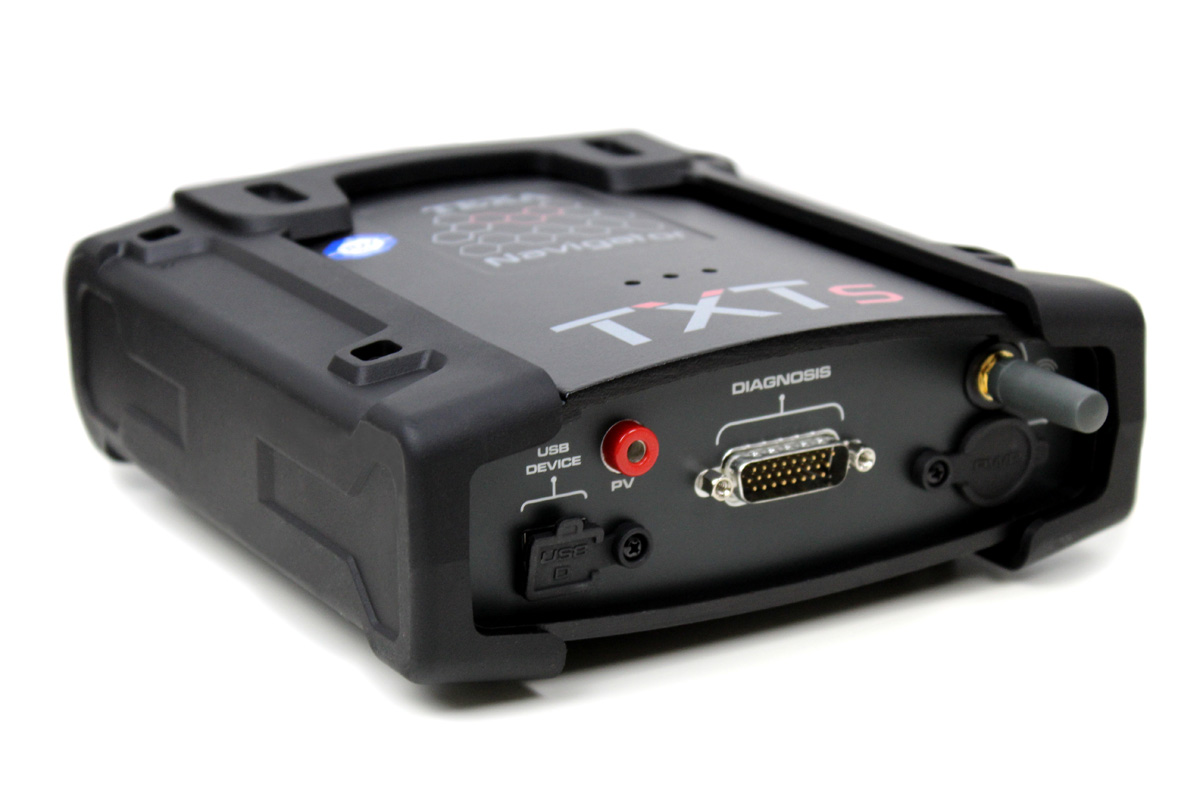 PROFESSIONAL DIAGNOSTICS TEXA NAVIGATOR TXTs for PC with integration "SUPERCAR"
Programmed maintenance, inspections, and periodic revisions require specific electronic equipment to reset the service indicators, check the condition of the equipment, or activate certain systems.TEXA NAVIGATOR TXTs is the latest TEXA interface for multi-brand diagnostics. A powerful diagnostic tool for direct connection to the vehicle's OBD socket that communicates with a Windows PC via Bluetooth.
PRODUCT DESCRIPTION
TEXA NAVIGATOR TXTs is the largest and most versatile version of the NAVIGATOR self-diagnosis range for all types of vehicles (cars, motorcycles, light and heavy commercial vehicles, AGRI and marine). Wireless operation allows the user to perform all diagnostic tests with a great deal of freedom of movement in the workshop and around the vehicle.
TEXA NAVIGATOR TXTs allows to perform self-diagnostic tests such as: error reading and deletion, display of measured values and activation states, adjustment and configuration, reset of pilot light when changing oil, maintenance and airbag, ECU configuration, keys and remote controls. Additional brand coverage of "SUPERCAR" integration: Alfa Romeo, Aston Martin, Bentley, Chevrolet, Dodge, Ferrari, Lamborghini, McLaren, Porsche, Rolls Royce, Maserati, Morgan and Pagani.
SUMMARY
Professional diagnostic device
Multi-brand software
including sports car integration
Read and delete errors
Configure and adjust
Learn key
… and much more!
INCLUDED:
-Navigator TXTs car with EOBD cable,
-USB cable,
-Bluetooth antenna,
-Multi-brand software IDC5 Plus car for PC
-Software integration "SUPERCAR"
-USB hardware dongel for activation,
-Tether
-Manual,
-USB Bluetooth antenna for PC
TECHNICAL SPECIFICATIONS
PROCESSOR: CORTEX M3 STM32F103ZG 72 MHz, FLASH 1024 Kbytes, SRAM 96 Kbytes
MEMORY: External SRAM memory: 8 MBit, divided into 512 kbyte x 16 bit, NAND flash memory, external: 132 MBit on 8-bit bus
VEHICLE BATTERY: 12 VDC and 24 VDC system management
EXTERNAL POWER SUPPLY: 8 ÷ 32V
USB COMMUNICATION: Virtual RS232 interface for USB 2.0 device
WIRELESS CONNECTION: Bluetooth Class 1 (30 m)
ELECTRONIC SWITCH: 2-way, 13 independent positions
CONNECTOR TO THE CONTROL UNIT: PV as required by the SAE J2534 protocol
DIMENSIONS: 160x170x55 mm
WEIGHT: 1 kg
ASSISTED PROTOCOLS: Blink Codes, K, L, (with current protection 100 mA), ISO9141-2, ISO14230, CAN ISO11898, ISO11519-2, SAE J1850 PWM, SAE J1850 VPW, SAE J2534-1
OFF-LINE CODING IS ALSO POSSIBLE (online is, per time fee)
All cables are the latest versions with full support.
We are an established company.
Free technical support available by appointment.
All software will be pre-installed for you.
The system is built to order and delivered READY TO USE.
All cables supplied will be brand new.
TXS Global
We supply all manner of diagnostics setups
for cars and trucks.
Contact us if you have any queries.
DISCOUNTS FOR CASH/BANK TRANSFER/WIRE PAYMENTS AVAILABLE or MULTI BUY. Contact us.
Delivery:
We will deliver your products as soon as possible after confirming with your payment.
All items had been tested before shipping
please give correct post code to avoid delay of shipment
Russia customer needs to provide full name, normally it have three name
please provide English delivery address
Tax:
We can declare in lower value to help you avoid tax, if you have any idea about this , please tell after paid
buyer is responsible to clear customs and pay tax if any when goods arrive their country,  our price does not include tax in your country,
thanks
Warranty & Maintenance:
We provide 1 year warranty, Buyers are only responsible for the return shipping fees for warranty items. As soon as we receive the items,
we will repair or exchange them ASAP.
Feedback:
Your positive feedback will be highly appreciated once you get the items and satisfied with them. Also we will be very glad to return you the
positive feedback. Thank you!
Contact us:
Our office hours:
Am8: 30-PM11: 00
Contact Person:  Johnson Damus
Email: txsglobalstore@zoho.com / sales@txsglobalstore.com
For WhatsApp Business Only: +44 (777) 4210-234