Description
Allscanner VXDIAG VCX HD Heavy Duty Truck Diagnostic System for CAT, VOLVO, HINO, Cummins, Nissan Free Shipping
Original Allscanner VXDIAG VCX HD Heavy Duty Truck Diagnostic System
VXDIAG VCX HD Software: CAT, HINO, VOLVO, CUMMINS, NISSAN
VXDIAG VCX HD allows you to diagnose most of heavy Trucks, such as CAT, VOLVO, HINO, Cummins, Nissan. Also it can diagnose Buses, Grabs, Cranes and Engineering machine.
Main Function: Fault code diagnosis, maintenance guide, data stream reading, data resetting, PCM (ECU) reflashing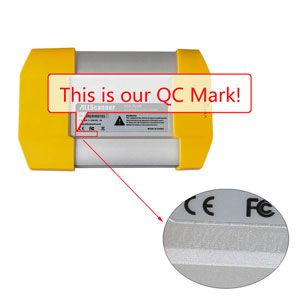 VXDIAG VCX HD Features:
1. Meets the industry standard RP1210 A/B
2. Optional connectivity: USB wired and 802.11b/g WIFI wireless
3. The adapters and cables are durable.
4. Allow you to diagnose 12V/24V heavy & light Trucks.
5. Hardware meets European CE and American FCC requirements.
6. Firmware update is supported
Compatible Protocols:
CAN125/CAN250/CAN500/CAN1000
SAE-J1939 CAN
SAE-J1708/J1587 On RS485
CAT DATALINK (Caterpillar)
ATA DATALINK (Caterpillar)
Compatible Software and Application:
CATERPILLAR V2010A/2010B
CUMMINS V7.5
VOLVO PTT1.12
ALLISON DOC V8.4
BENDIX V6.3.8.0/V5.6.3.0
DETROIT DIESEL DDDL V7.05
EATON V3.2
INTERNATIONAL DLB/ICAP/IPTS/MASTER
MERITOR TRANSSOFT 2.1
PERKINS EST 2010B
TRIAL_ISUZU
HINO_EXPLORER V2.03
VXDIAG VCX HD Software specification:
1.VCX HD driver program meets the industry standard of RP1210A/B
2.VCX HD is a standard Passthru reprogramming tool, and can perform ECU reprogramming online.
VXDIAG VCX HD HardwareSpecifications:
CPU:32bit 180MHz ARM CPU
Storage:1MByte
Cable Interface (PC):USB2.0
Network Interface (Optional): LAN 10/100M Ethernet
Wireless Interface (Optional): WLAN 802.11 b/g/n Wi-Fi
Diagnostic Interface:24PIN highly reliable and easy-swap interface to OBD-II 16PIN
Indicator Light:4 LED: Power, Wireless, Host and Vehicle.
Power: Vehicle power input: DC 9V-36V
Compatible: 12V&24V
Power Dissipation: 2W
Size :L x W x H = 175 x 110 x 45 (mm)
Weight: Device Weight: 0.6 Kg
Package: Weight: 2.3 Kg
Shell: Aluminum metal & Rugged plastic shell
Working Temperature: -20~+70 °C
Storage Temperature: -40~+85 °C
Standard Certification: Certification of Euro CE and US FCC
---
Contact us:
Please Make Sure You Leave A  Message At The End of  Email below for Fast Response or Reply.
And if nobody answers you online, sometimes, do not worry, leave us a message or write your desires, we will contact you as soon as possible. , We Will GET Back to you immediately.
Thanks for your Understanding.
Our office hours:
Am8: 30-PM11: 00
Contact Information.
Live Support: Chat with us online
Email: txsglobalstore@zoho.com
Sales@txsglobalstore.com
For Direct Live Chat: Visit Us @
Www.txsglobalstore.com